All of my 3 lads weigh around 800g, but one of them is noticebly larger than the other 2.
Despite them all just eating their shunamite diet (I half fill 2 small coop cups each day). In it is just the rabbit food, pasta, dog kibble and cereal. They also occasionly get fresh veggies, and a small jar of baby food probably once every 6 months ish. People visiting have asked me if he is overfed!
They are in no way over fed, but this lad has rolls of flab.
I remember reading about a gene in rats that makes them overweight (zucker?) Is it possible this is what my boy has, he isn't a huge mover (like most boys!) but he doesn't sleep when he's out, and will quite happily potter about for an hour. He's now nearly 16 months old, and was one of the babies born from a big rescue that took place on this forum.
As a young lad: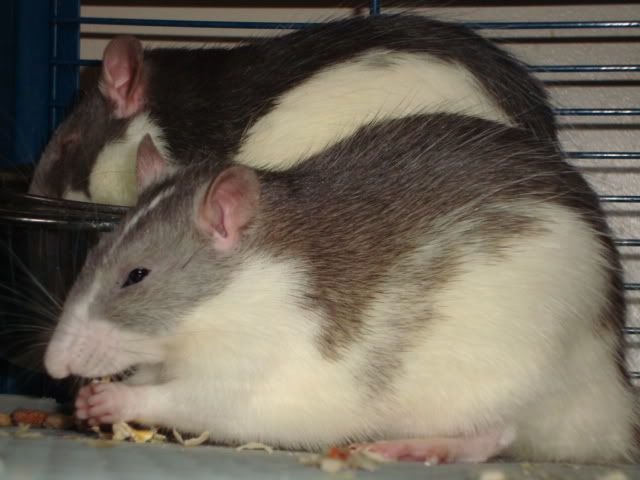 Growing up:
The pictures don't do him justice, he's huge (fat!) with rolls of flab, I weigh him regularly, and he never loses any, but still puts on a few grams every now and again.
Recently:
How do you put a rat on a diet that isn't over indulged anyway?