ok this is a serious thud matter. she is just too too cute!
doe is a siamese with very dark markings and buck is a dumbo berkshire
13 eepers in all. 7 males (4 dumbo berkies, 1 standard berkshire and 2 siamese standard eared) and 6 females (2 siamese, 1 cream dumbo and 1 dumbo berkie, 2 standard berkies)
sagwas points are very light. she has a cream hood, with the slighty darker mask, feet and rump of a siamese. Im just not sure as to what her pionts are..is she a flame point? seal point? im not to sure on the varieties so i thought i would ask the experts. are siamese supposed to have red eyes as well? she does... here are a couple pics. (sorry they're not very good ..she wont stay still long enough for a close up..lol)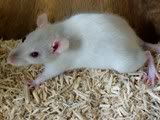 let me know what you think...