I came across an advert local to me for baby rats for £1 :/ It turns out some uniformed man decided to breed rats in what i'm assuming was a misguided effort to make money and ended up with more than he could handle. i asked the names of the rats and he said they didn't have any as 'they were just gonna be for breeding' he obviously had no clue how many rats you can actually get from a litter or how to care for them. he told me he ended up with 40+ rats and 'had to get rid of them cos even the pet shops wouldn't take them'. I took the boys that were left, there was 3 of them and i honestly thought they were mice at first sight. they were absolutely tiny. they had their eyes open so they must be 10 days but i doubt they're much older than that. they'd already been separated from their mum and i don't know for how long. I've gave them scrambled egg with tuna, some cooked pasta and some veg and the amount they're eating is phenomenal considering their size. obviously they should still be drinking mum's milk so i'm really worried they wont survive even with the high protein foods. is there anything specific i can give them, maybe kitten or puppy milk?
when i left the man said that he 'took the boy out too late so they're pregnant again, if you want any more they're due in 2 weeks'
since the gestation period is just over 3 weeks i believe, then my boys must be barely 10 days if the girls got pregnant again straight away. i didn't see any food in the cage and definitely nothing high protein. i'm worried hes going to take these babies away from mum as early as he did my boys. i'm assuming he's not going to attempt to breed again after the mess he's made this time and i'm thinking of offering to take the pregnant does and the lone male and re-home them and the babies myself so he doesn't sell them as feeders. i don't know what to say to convince him to give up the rats but they're not exactly loved pets, they don't even have names. any help and advice on what to do here is appreciated.
here's a photo of one of the boys so you can see how small they are: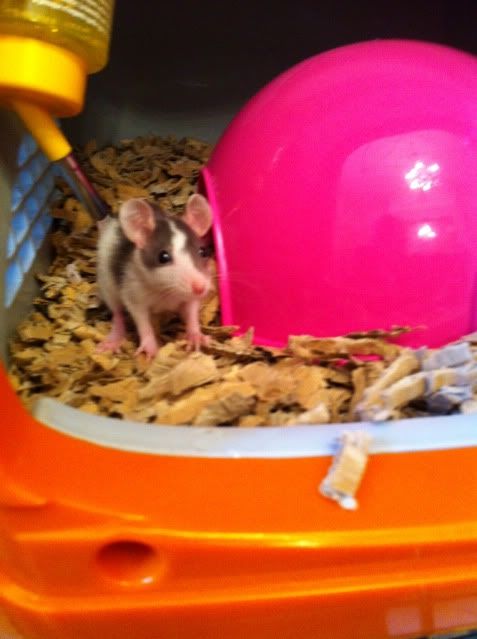 and here compared to a normal sized rat: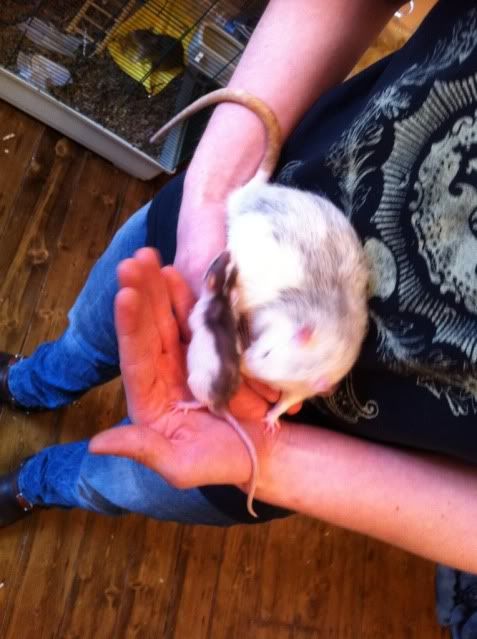 i've popped them in a cabrio cat carrier for now and even that swamps them. the smallest cage i have is a tom cage and i'm scared to put them in in case they a) get through the bars or b) fall and injure themselves. its a huge drop for such a tiny animal. they look so fragile i'm apprehensive about picking them up. they're friendly little things despite their bad start in life. should i risk popping them in the tom or keep them in the cabrio?