i give my rats a complete vegetarian mix at the moment because it is hard to find some good proteins here.(i don't like dog kibble)
the protein source in this mix are split peas only.
i've found a turtle food product and was wondering if i can use this in my mix.(i'm not sure about the turtle sticks)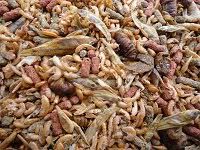 this are the ingredients:
The turtle sticks consist of various fish, algae, shrimp and contain lots of calcium, vitamins and trace elements.
Crude protein 37% Crude Fat 3% Fiber 3%, Ash 6%
Vitamin A 12,000 (i.e. / KG)
Vitamin D3 1500 (i.e. / KG)
Vitamins E E 80mg/kg
Vitamin C 150 mg / kg
the amount per 10L mix
gammarus 2L
fish 1L
large shrimps 2-4cm 2L
small shrimps 1-3cm 2L
turtle sticks brown 0,5L
turtle sticks red 0,5L
mealworms 1L
silckworms 1L
if i can use this mix it will give a good variety in protein sources.
i can buy everything separatly, but it only comes in 2,5L packages, so it would last me for ages that way.
this mix would be ideal!
this is my current mix:
base food
2kg paddy
2kg barley
1kg millet
1kg maize
1kg buckwheat
processed grains
200gr rice cakes
1600gr muesli (oat flakes,wheat flakes,barley flakes,raisins and nuts)
500gr pasta
1kg white rice
seeds
300gr linseed
300gr hempseed
100gr sesameseed
protein
1kg peas
total protein in mix 11,4%
total fat in mix 4,5%
i now have 5000gr of my current mix, how much of the turtle mix should i mix in?
i would like to change this mix because i have 2 new babies and the don't like the fresh protein i give them.
i also have some herbs at hand wich i can mix in, can anybody give me some advice about the quantities?