Size:
51cm (20'') L x 33cm (13'') W x 35cm (13.75'') H
Weight of carrier:
4.21kg
Max weight:
11.3kg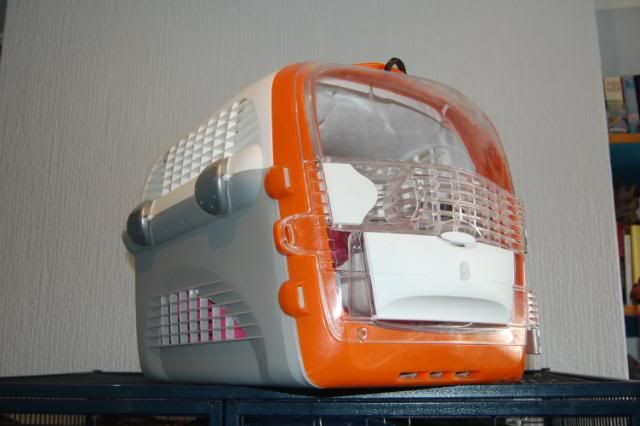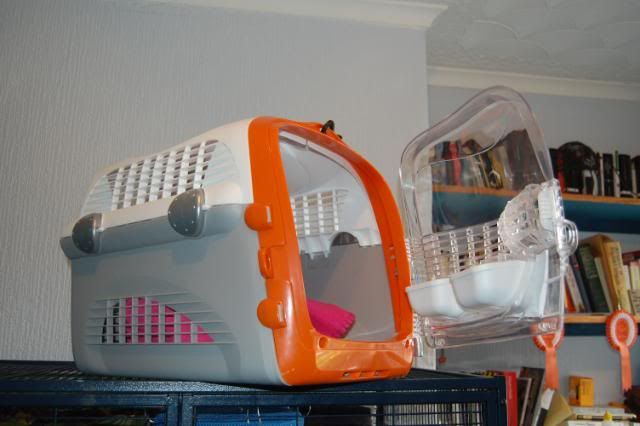 Features include:
- Slide out food and water bowl which can accessed externally which helps stop rats escaping.
- Clear view front door so that the owner can see the rats, makes it a good kitten carrier as there arn't any possible escape holes, probably makes the rats feel more secure and helps exclude draughts.
- Top opens allowing easier access.
- Single-hand locking mechanism on front door which makes it easier to open/close.
- Good ventilation as there are vents around the top.
- Surface heat dissipator which helps prevent heat build up in the Summer.
- Integrated Molded Handle which provides increased stability.
- Molded base which helps collect fluid in a type of gutter running along the edges.
- Designed to be secured whilst in the car with a seatbelt.
- Has holes for padlocks for extra security.
- Lots of space for rats and can double as an emergency overnight cage or a hospital cage.
- Shoulder strap for easier carrying.
I really like this carrier. I think it could make an excellent kitten carrier as there's no need to worry about gaps, I like the fact that its enclosed and that it has a pull out tray for food if your going on long journeys (which can also be excluded althogether if wanted). The only downside is that its a bit heavy but I think for something so sturdy and well made its a small price to pay. I give this carrier: