The Dimensions are:
Dimensions: 80cm x 50cm x 79.5cm
The cage comes with chrome plated bars.
The narrow chrome bars (bars are 1.4mm in diameter) are approx. 1cm apart to ensure that even young rats can't escape. The cage can be opened on top by a large door and at the front and back by a small door.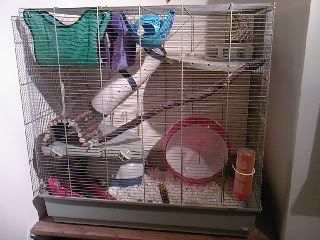 The floor space is big enough for older rats and there is a nice amount of height for active ratties.
Access for cleaning is good as you simply remove the metal top of the cage to clean out the plastic base. Fixing the furnishings is quite difficult as you can't seem to get your arms in at the right angle! It's a good idea with this cage to Plastikote it before it rusts and stains. Also it holds smells if not coated!
This cage can cause problems if you have chewers as they seem to go for the corners of the plastic base!
Typically the cage comes with a drinking bottle,a ferplast ladder, 2 feeding bowls, 2 Ferplast platforms, straight pipe, curved pipe.
It takes a maximum of 5 rats! (the selling info says 6 - but it
really
doesn't fit 6!)
It's a relatively expensive cage around £100 - £130, but i really liked the Jenny en route to my Explorer.