Marchioro Tommy 82 T3
82cm x 51cm x 152cm (LxWxH)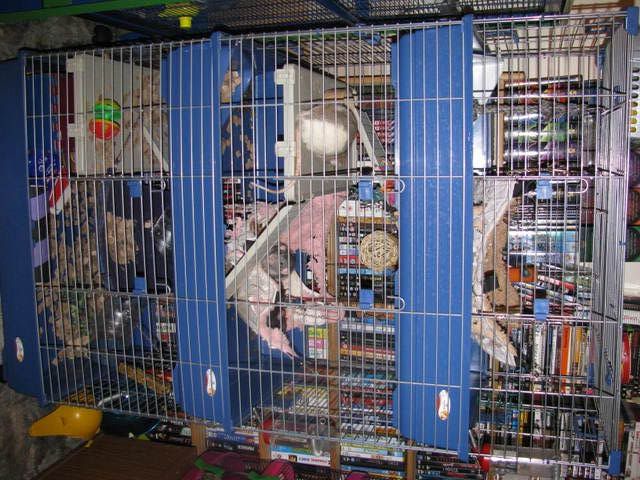 Comes with accessories including 2 shelves; 4 ramps and 2 houses
This is a three tier cage with full bases on each level and comes with shelves and ramps to join these although you can use other methods if preferred. You can remove some of the bases and cable tie the bars together to build more of an open-plan style cage. You can even sub-divide the cage by blocking off the holes in the bases which is useful for intros etc.
A good size cage. Has wide bar spacing meaning it may not suit very young or small rats but these are horizontal giving good climbing and hanging opportunities. Fantastic access with each level having a large door on the front plus a large top door and 2 levels have smaller side doors designed to attach the house accessories on the outside of the cage (we haven't done this).
This cage is very easy and quick to clean. It comes flatpacked but is not hard to put together and each section can be quickly separated and reattached during cleaning. It has wheels on the bottom base to allow it to be moved around and being predominantly plastic it is nice and light yet still very sturdy.
The bases are very deep but there is no lip around the access holes so bedding will fall down to the bottom of the cage and some will still fall out of the cage. Older and less mobile rats may find the ramps provided too steep.
Ratty rating