Product Information
Manufacturer: Dayang Pet Products
Model: Rodent Cage R5A 120
Retail Price: £79.90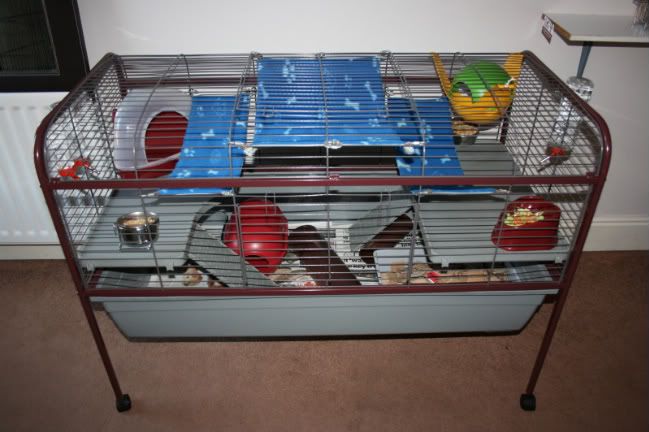 Dimensions
Cage dimensions including stand: 123 x 62 x 91 cm
Cage dimensions excluding stand: 123 x 62 x 65 cm
Basin Dimensions: 119 x 60 x 20 cm
Front Opening Dimensions: 39.5 x 24.5 cm
Top Opening Dimensions: 39.5 x 40 cm
Roof Opening Dimensions: 119 x 59 cm
Bar Spacing: 22mm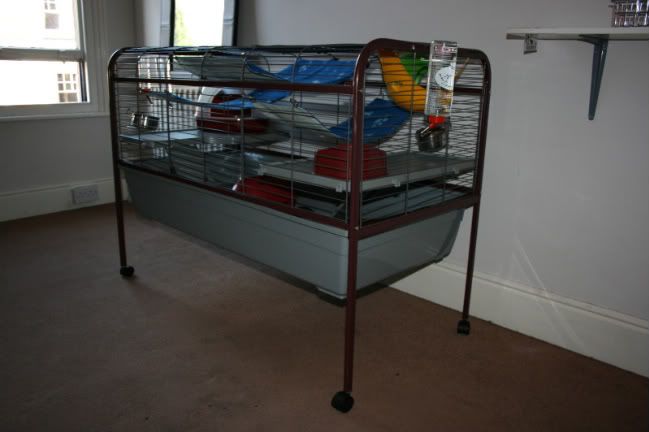 Accessories
2 Platforms
2 Ramps
1 Sleeping Chamber
1 Hay Rack
1 Food Dish
1 Water Bottle
Further Information
Number of Rats According to the Cage Calculator: 8
(Personally I would think that 5 or 6 would be a preferable number)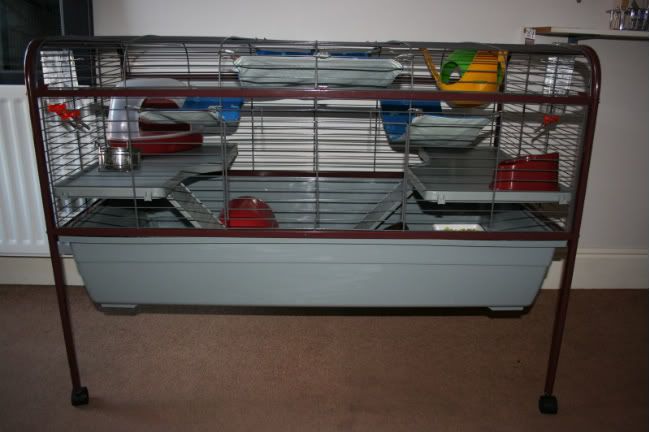 What I Think About…
The Space
Floor space is something I am often particularly concerned about when it comes to cages, height is great but unless you can use all the dead space created then it will not be sufficient space for the amount of rats the cage calculator indicates. Height also concerns me when it comes to falls and requires the use of hammocks to break any potential falls as well as utilising the fore-mentioned dead space. This cage has a good ratio of height and floor space in my opinion as it does allow opportunity for the rats to climb while supplying them with a large base surface area.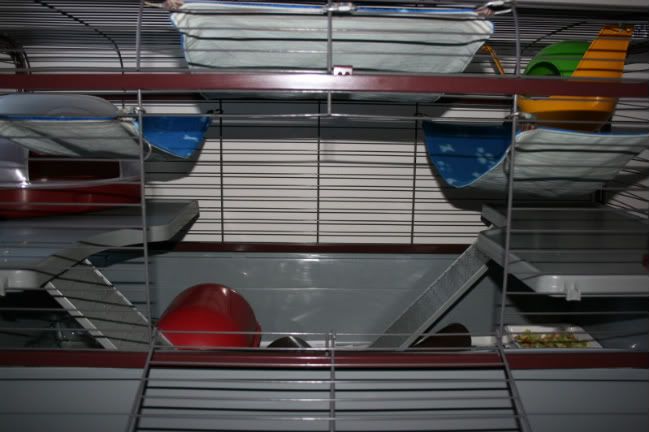 The Build Quality
The cage isn't the sturdiest we've had however I have no worries about its longevity and find the overall quality high. After unpacking the flat-pack cage the frame seemed strong and sturdy, all the bars and frame are coated a maroon and grey which I find to be very attractive and door catches are safe and secure. There is a limited amount of rattling as the bar sections are inserted into the frame and have a little room to move, it is not overly noisy however and I am very satisfied with its quality.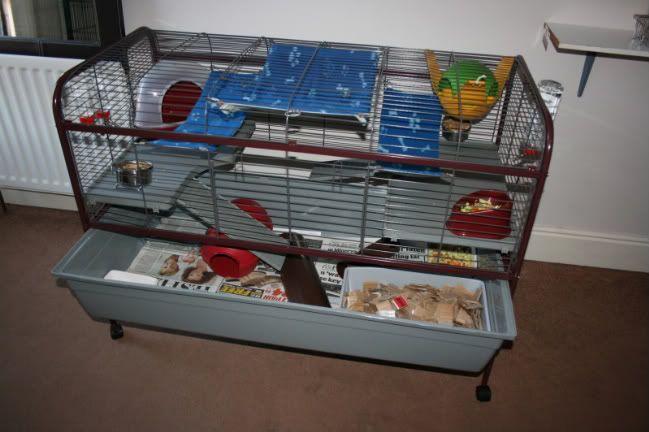 Practicality
This is where my love for the cage really stems from… the cage itself is on wheels and so it is easy to manoeuvre from room to room or just out of the way so you can hoover beneath. The access is outstanding, it has two good sized doors at the front and roof for interacting with your animals and when it's time to clean the whole roof lifts off on a hinge and the bottom tray slides out: this makes cleaning and rearrangement of the cage so easy. Unlike most cages with slide trays, which have shallow trays, the Rodent Cage R5A 120 has a 20cm deep tray which prevents any debris or faeces being kicked out: an excellent design feature!! The bar spacing while wide in comparison to many other models is not a problem for me and I do have two smaller than average does who have not managed to escape… and they have tried!
Perhaps more talented escape artists would be able to manage it and of course young kittens would have no problem doing so. Horizontal bars encourage climbing and give you several alternative places to attach clips etc., making hanging hammocks and accessories a dream. The stand which, sadly, is not detachable does however raise the cage above the floor by about 30cm allowing me to keep the floor of my rat room clear for free ranging… this prevents any stubborn ratties from hiding out beneath like in the case of our Tower! It could just as easily be used for storage.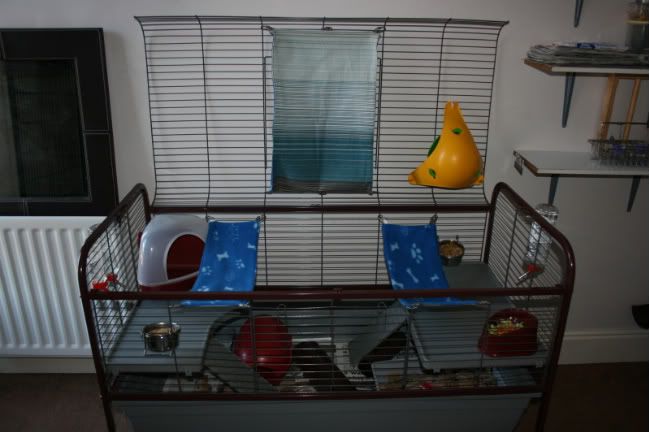 Aesthetics
I think the cage is very attractive, I like the cage shape with its arched top, the colours of grey and maroon, the stand which gives it an excellent accessible height as well as the general design.
Negatives
There aren't many but…
The paint on the frame can scratch quite easily should something sharp and abrasive come into contact with it however the use of a scouring sponge nor the rats claws have had any effect on it what so ever so as long as it's looked after I shouldn't see this happening too often.
Bar spacing is of course considerably wide compared to most rat cages which is a down fall of a cage designed for guinea pigs and rabbits.
The water bottle supplied was leaky and so had to be thrown and the 'sleeping chamber' has a transparent roof which means some rats may not be so keen on using it, mine do but if not it could easily be used as a litter tray instead!
Assembly isn't easy and does need two people really… I managed alone however!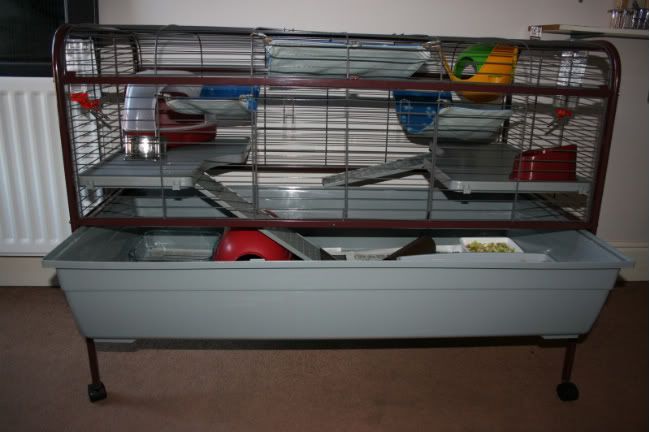 In Conclusion
For our needs this cage is perfect!!! Why? Well…
The access is fantastic!
The base tray prevents mess and aids cleaning!
It is relatively light and can be flat packed again with a little effort adding transit of the cage.
The accessories, especially the platforms and ramps, are great extras and of good quality.
The wheels on the cage make movement easy and hassle free!
The height is not excessive and the floor space is large making the cage suitable for young and old alike!
Overall build quality is high!
It is attractive and would be a nice addition to anyone's home!
Rating for Rats...
Rating for Humans...
Any questions feel free to PM me!