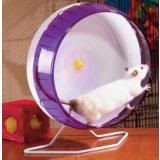 The Silent Spinner comes in three different sizes: 4.5", 6.5" and 12" Diameter - However only the 12" is suitable for rats. The Wheel is a nice texture and soft for their feet with nothing for them to get stuck in or hurt but.
Colours:
It comes in lots of different colours, from green to blue and red (not in pink yet!)
Cost:
Depends where you buy it as the cost can range from £12.99 to £19.99.
The Spinner can work in two ways... 1) The stand works well on it's own unless you have ratties that are likely to knock it over, which means it can be a worry if it falls on them. 2) Remove the stand (by literally pulling the white stand out of the back). Unscrewing the plastic cap on the reverse will display a pertruding plastic circle with four sections cut out. Just pop it onto either vertical bars, horisontal bars and/or both and it'll fix well.
Longevity: The Wheel is very easy to clean as well and i've had mine about 2 years and it still looks brand new!
Personally i found it works better when on strong bars, as the frequent use by my girls actually broke the horisontal bars of my Jenny and it was very loud, but i hardly ever hear it on my Explorer and it fits tight and securely and hasn't damaged the bars!