Prime real estate for your cage! I give this:
The best ratty thing I've ever bought, and my ratties agree whole-heartedly! Whenever I post a pic with this in, people always ask what it is and where to get it, so i thought I'd make a review, and spread the word
It is a hanging hammock with 'rooms', which has hangers along the top
and
the side, so you can hang it down or hang it across! You can choose from an exciting range of fabrics, and request as many 'rooms' as you want.
There's a choice of Sherpa fleece, polar fleece and denim to line the rooms, and the stitching is very thorough to discourage chewing. Each room can fit up to about 3 rats, and they also love to lie on the top.
Mincemeat in one of the 'rooms', showing the warm Sherpa fleece lining: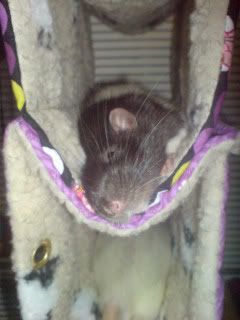 A 3-room condo hanging lengthways (metal rings are fixed in, and large paper clips are provided free to hang it up):
Condo can be custom made to suit your preferences (Pink Panther fabric shown):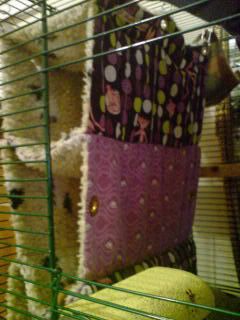 Each "room" is 5"h x 4.5"w.
A condo with 3 rooms (pictured) measures 10" x 11.5".