My rating:
The 'Rackie' hammock has a metal frame which hooks onto the side of your cage (much like a radiator bed for cats).
The frame is quick and easy to place in the cage, and the cover can be easily removed to wash, and a replacement put on [there's a wide range of patterned/plain fleece and cotton on the site].
This design offers something a little more sturdy than normal hammocks, and also makes great use of spaces around the cage.
10" x 8". It is the perfect size to accommodate one tired fuzzy: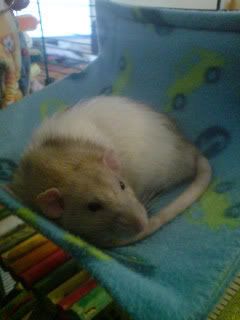 Available at
Sarah's Sleepies