Sorry to everyone, in advance, for this long post!
This is my first time posting here and I'm hoping I have some exciting news!
Here goes the history....
I had a Seal Point Siamese dumbo(standard smooth coat) whom was bred to a black berkshire (both standard ears and coat). She had a litter of 11. A mixture of Siamese and Self-Blacks with standard smooth coats. Some were dumbos. Some had the standard ears. Nothing strange or out of the ordinary. I kept back the nicest dumbo male.
That same black berk male had also been bred with a black and white variegated dumbo female (standard smooth coat). Their litter consisted of varying colors and patterns. Some dumbos. Some standard top ears.
Now, back to that litter of 11....when the nicest Siamese dumbo male was old enough, he was bred back to his Siamese dumbo mother. Again, nothing strange or out of the ordinary.
HOWEVER, when he was bred with the black and white variegated dumbo female (the same one that his father had been bred with in the past), some very strange little things were born....two, to be exact. Two curly whiskered fuzzy things!! I had been told perhaps I stumbled upon a recessive Rex, as they did look very similar to Rex babies (for a pretty good amount of time actually). I was also told that they were just hairless babies (this, I was told, was still in the first week of them being born) and I would definitely be able to tell for sure around 2-4 weeks of age. Well, unfortunately, the female died before two weeks of age. The male is still alive, is doing very well, and is an adorable little fuzzy thing!! I still have no idea what he is....he is not a Rex or a hairless....nor any other coat type I've ever seen. I ended up keeping him and a couple of his Siamese dumbo (smooth coat) sisters.
I obviously did the same pairing again. The Siamese dumbo male with the black and white variegated dumbo female. And again, I got two strange little ones!! There was one male and one female (just like the first litter). And just as before, one died within the first week...this time, the male. So out of four, two male and two females, I have one male and one female.
Once the strange male....well, his name is Dobby. And I've been calling them "Dobby" rats. However, if it is in fact something new, I'm not sure if I'd be able to call them "Dobby" rats as I'm unsure whether or not there are copyrights pertaining to Dobby in the Harry Potter movies??....anyways, back to the story....once Dobby and his normal looking Siamese dumbo sisters were old enough, I put him and one of them together.
Three weeks later or so, she had her babies. There were nine total. Out of these nine, there were three strange ones!! One was the runt and didn't live long. And then another looked like it had been buried and forgotten. So now there are only seven babies, one being a "Dobby" rat. This was her first litter though, so perhaps she isn't the greatest of first time moms. I can't help but think that this might be a kind of weak new line though. Only time will tell. I'm keeping quite good notes.
And we are now at present time.
And now time for a LOT of pictures.....
Here are the parents of the "Dobby" rats...
The father. A Siamese dumbo. And as you can see, a very standard, smooth coat.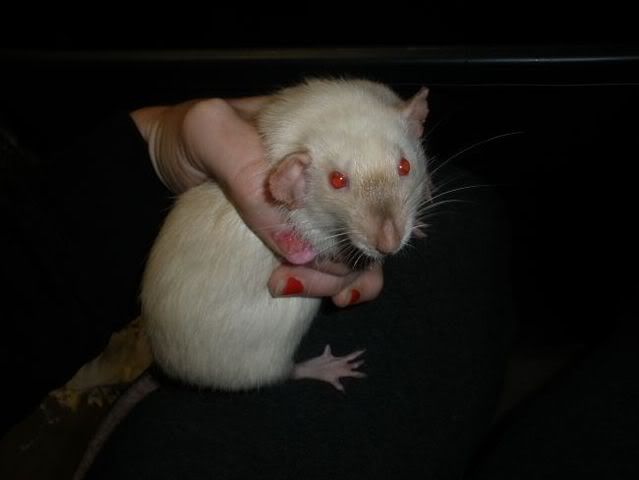 The mother. Black and white variegated dumbo. And again, a very standard, smooth coat.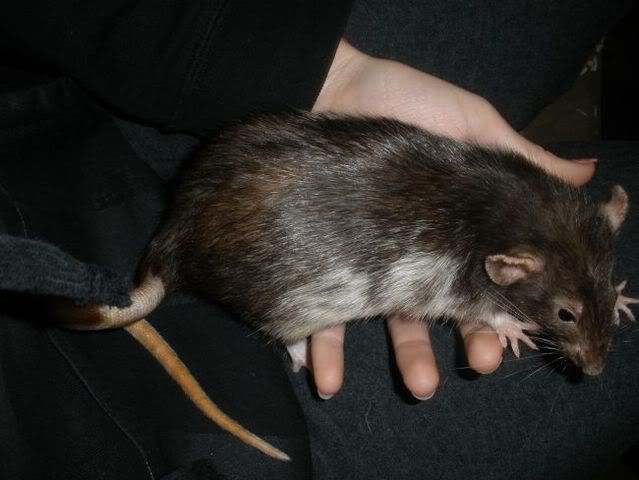 Here were the babies when they started getting some fur (before this, they were just pink little things with curly whiskers.). I did notice that they seemed to develop their coat slower than their standard smooth coated siblings.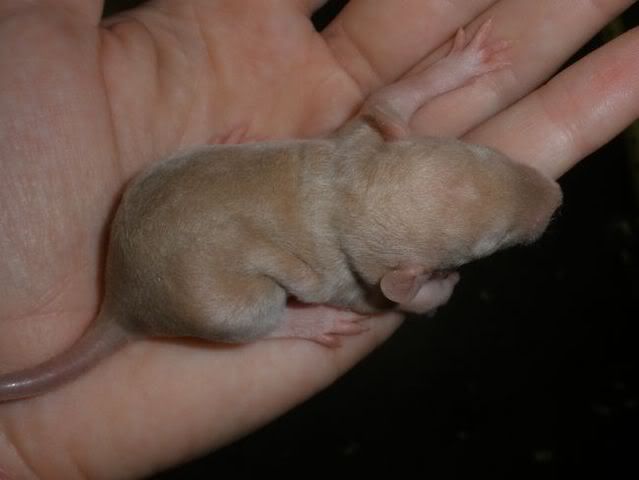 A day or two over 2 weeks old (this is my love, Dobby). He was much wavier than the pictures show.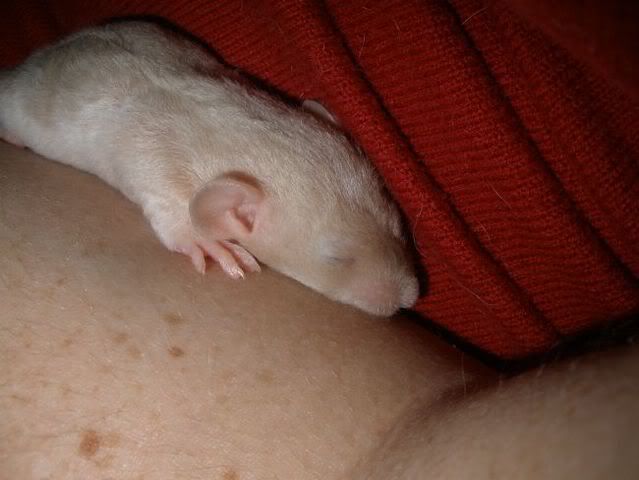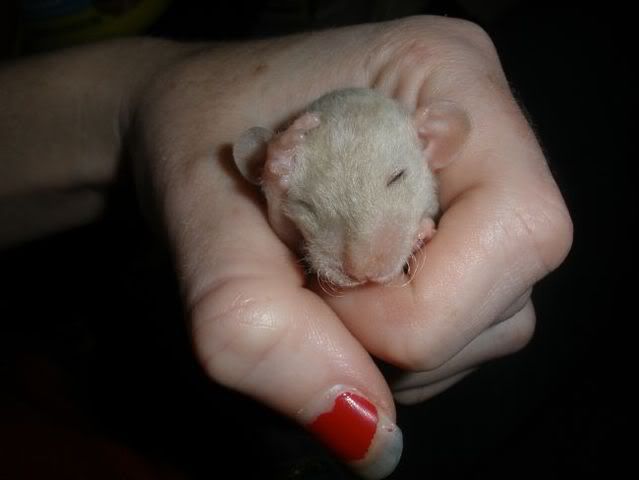 Here he is a little older.
So cute. Cleaning his face!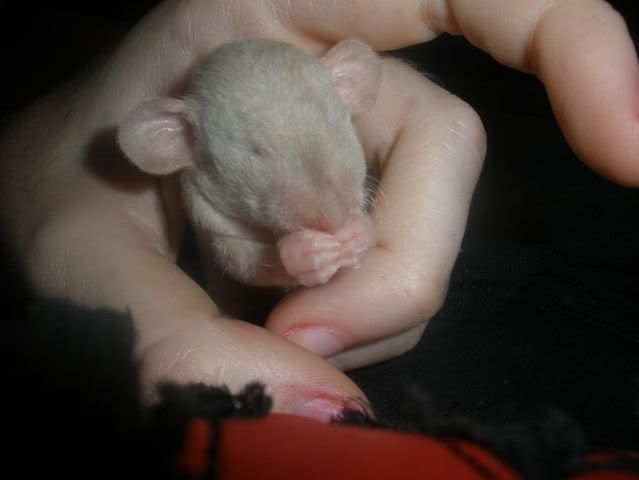 And again, this picture doesn't show it too well...but he was very wavy. The absolute perfect way to describe how his hair looked, is finger waves on short hair.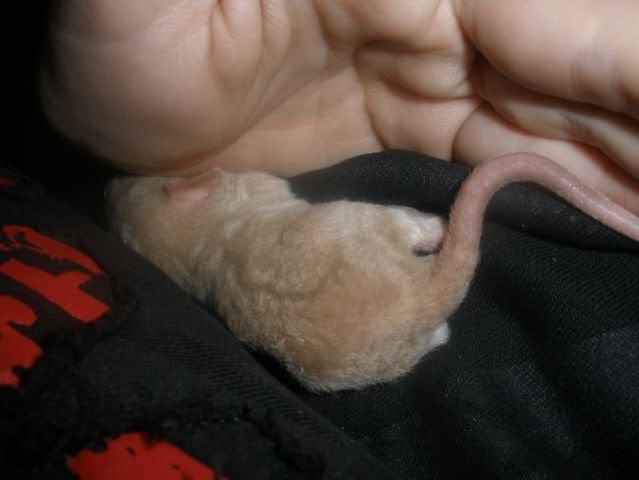 A little older and going through a major molt (and looking pretty ridiculous, if I do say so myself. Haha!)
Slightly older. He never got bald anywhere. He has a short, strange coat all over.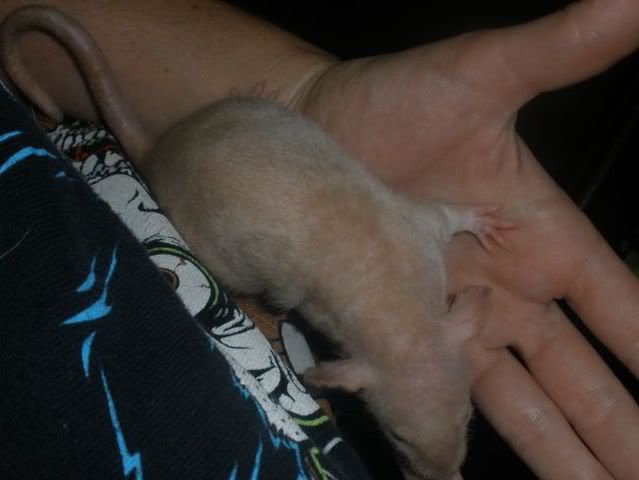 And current. He went from finger waves, to a strange fluff while molting, to an all over thin coat, to a strange shortish coat with crazy long fibrous looking hairs EVERYWHERE(the best thing to relate them to are those terrible clear fibers that go in your eye and you can't see them and they drive you nuts until you finally manage to get it out).
It's very hard for me to get a good picture of his coat...as my camera isn't very good.
My beautiful boy
And this isn't the greatest picture, but the thing it does show decently is his crazy hairs that go everywhere. Honestly though, the best way to see him, is in person.