Mod note: This article here about the rodent trade is well worth reading before or after viewing these pictures.

http://www.fancy-rats.co.uk/information ... ompetshops
I study Animal Sciences in the Netherlands and part of my extracurricular activities consists of being a board member of a commission which organizes excursions to companion animal related companies. One of my co board members is into mouse breeding and, through another mouse breeder, she came into contact with a person who breeds rodents and rabbits for profit. In short, I've been on an excursion to a rodent farm.
Although I do not agree with the concept of roden farms, I do appreciate the fact that this breeder agreed to show us his company and was very friendly and open about any questions we asked, and we were allowed to take all the pictures we wanted. So for now, I will leave the ethics to you; I will present the facts as they were presented to me and show you the pictures I took.
This man breeds fancy mice, feeder mice, rats, hamsters (all common species), guinea pigs, rabbits, lemmings (not sure if that's the English word), degus and gerbils. He also had a few ornamental birds and a couple of owls. The rats are housed in pairs or in groups of three; lactating does are housed seperately with their young. The does are constantly pregnant or lactating. When they are done breeding, they become snake food; the same goes for ill and old rats or those that cannot be sold (deformities, etc). The rats are fed rodent blocks and a few extras like bread, cat kibble and some vegetables. They are kept on a Hemp type bedding.
He breeds all kinds of rats: double rex, naked, rex, dumbo, but also top-eared, normal fur, etc. The rats are of various colors but he is most proud of his blues, who are price winning. He showed a blue male that sat very quietly and contently in his arms; this rat was only handled once a week, during clean out, and even so it was sweet as pie. He particularly appreciated the character of blues, who he said were tamer (although I suspect this can be attributed to his 'lines' rather than the color as a whole). For new varieties, blood and upkeep, he obtains some animals from Czech, where prices are low but quality is poor; but he prefers rats from the UK, as that's where he could get the special colors and rats of good quality. The animals are sold mainly to pet shops.
And for now: the pics.
The hall. In front, in the white things are the guinea pigs; behind it are feeder mice and rabbits; in front on our right are mice, hamsters and gerbils; rats are in the back.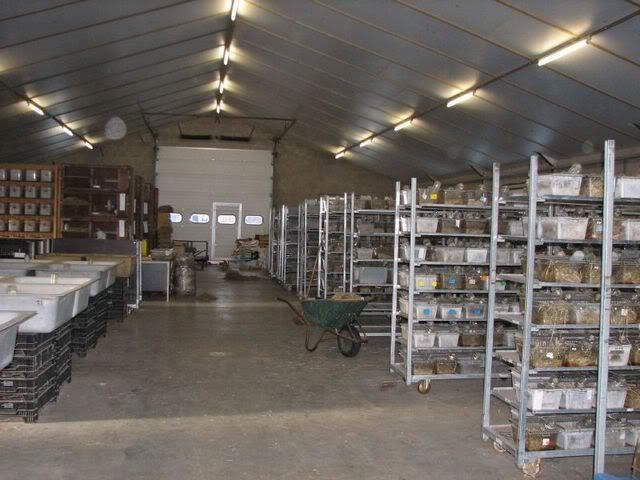 The rat housings.